back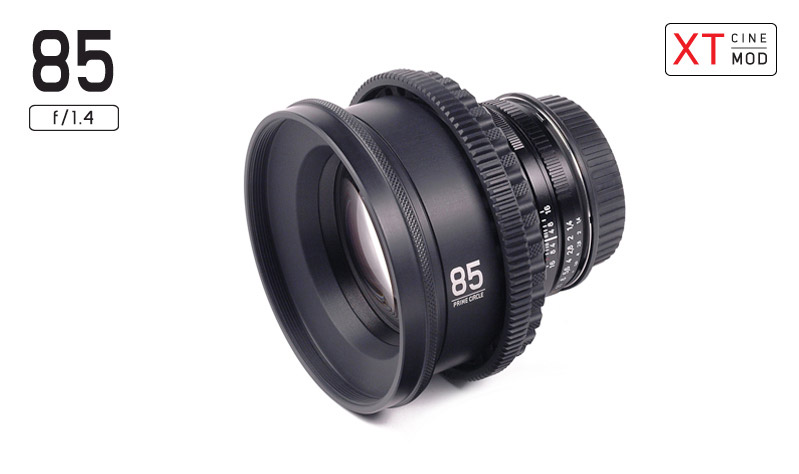 PRIME CIRCLE XT Cine-Mod for ZEISS ZF.2 Lenses (including lens)

Still photography ZF.2 lenses mets professional cine-style features.
Ultra Lightweight design, engineering and precision grade manufacturing.
Teflon Impregnating Hard Anodizing (TIHA) for heavy duty, scratch resistance and lifetime work.
Ergo-Gear, innovative follow-focus gear featuring also handheld ergonomics grip.
Aperture gear de-clicked and dampened for smooth aperture action.
Front Mount with 95mm size mount for professional cinematographers matte-boxes and accessories
Filter thread 90mm for PRIME CIRCLE 90 Series professional step -down filter rings.
Canon EF-Mount with stainless-still heavy duty professional bayonet.
Exclusive SIDE INDEX VIEW for easy to read focus/aperture settings!
Innovative X-Circle Cine-Lock bayonet with improved locking mount for cine-style focus work.
Front Mount with circular engraved grooves for superior flare and reflection control.
Full coverage Full-Frame 24x36 mm
Side Code Barrel with engraved lens size - immediate lens coding for production crew reports
PRIME CIRCLE XT is designed by a cinematographer on the field to improve shooting quality!
Dedicated matte-box with sliding compensating base (MAT-BOX)
Custom Flight - Cases in flight hand luggage size!


PrimeCircle XT 85mm/f1,4 is a cine-mod of ZEISS Distagon T* 1,4/85 world class optics.

Ideal aperture with nine blades

Photographers want to guide the observer through the image. Minimal depth of focus is often used as a design element.
This keeps the background intentionally blurred to keep the attention of the observer on the main subject.
These different representations of the blurred areas, as well as the quality of the transition, are referred
to as the Bokeh of a lens. The finely tuned features of the optical design on ZEISS SLR lenses ensure a particularly
harmonious effect of the blurred areas of the image. The nine diaphragm blades and the resulting, virtually circular
aperture on ZEISS SLR lenses are crucial to favorable rendition of highlights in the fore and background.

Excellent image quality

The ZEISS range of T*® lenses offers the highest possible standards in terms of performance, reliability and, of course,
image quality. Quite simply, they are superior in every way. You can count on highly advanced flare control for crisp
and brilliant images, for example. And virtually zero geometric distortion, ensuring precise accuracy when reproducing
shapes – especially useful when photographing products and architecture.

Elaborate stray light reduction

Rich, vibrant colors are vital to creating a lasting impression. Stray light in the lens, however, would lead to
a brightening of the image, which is particularly visible in shadow areas. Image contrast is lowered;
the image appears dull and bleached. We combine various, elaborate techniques to reduce unwanted stray light.
For example, all lens elements are coated with the famous ZEISS T*® anti-reflective coating.
Additionally, a jet black special paint is applied by hand to all lens element edges to ensure that reflections
are prevented from the start.

Precise manual focus

Manually focusing a lens means controlling the image result from your fingertips. A good ergonomic design makes
all the difference. ZEISS lenses stand out with their large rotation angle which enables precise focusing.
Changes are immediately visible in the viewfinder. The high-quality focusing mechanism moves smoothly
without play, thus also supporting the intuitive interaction with the focal plane.
The precise engraving in meter and feet, and the depth of focus scale provide additional support for manually focusing.

ZEISS T* anti-reflective coating

The optical elements of ZEISS lenses feature T*® anti-reflective coating on all surfaces and an optical design
that guarantees images of superior brilliance at all times, even in unfavourable lighting conditions.
We apply the anti-reflective coating to the lens surfaces by the vapour deposition of extremely thin, transparent
layers on the glass. In this process, special substances are vaporized with extremely high energy in a high-vacuum
environment and are subsequently deposited on the glass surfaces, one after another, as layers with precisely
controlled thicknesses to achieve the desired reduction of reflective properties.
The first coating techniques were employed by ZEISS as long ago as in the 1930s.