back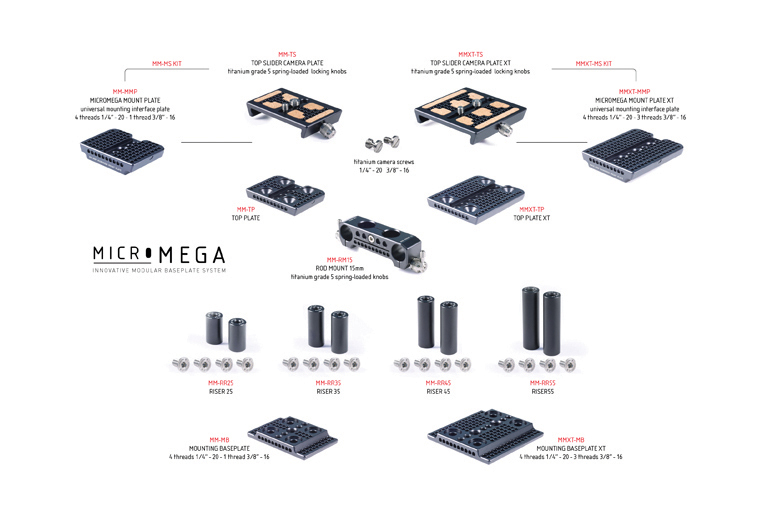 The MicroMega is a height/length adjustable 15mm modular baseplate system supporting a large range of camera sizes.
  Four different interchangeable rod risers (25/35/45/55mm) and two different baseplates/top plates can expand the MicroMega up to 20 different camera mounting solutions.


  With the MicroMega concept, your baseplate can follow all the set-up from a small compact action camera up to a bigger production camera, just changing the risers or the baseplate/top plate in less than a minute.


  The standard 15mm rod distance (85mm from the lens optical centre) can be adjusted perfectly, also the choice to use two or four risers  is available for heavy-duty loading of the camera. Two Rod Mounts can be mounted whit 4 risers for better set-up with external recorders or/with bigger batteries.


  The Top Slider camera plate,  can work also with the MicroMega Mount Plate that can be mounted everywhere (tripod head, shoulder rig, camera car etc.) with a 1/4"-20 or 3/8"-16 screws for quick camera mounting on different set-up's  without loosing a second when shooting.


  The MicroMega is CNC machined from aircraft grade aluminum  with exclusive LockCircle custom Titanium Grade 5 screws, also the spring loaded indexable knobs are custom CNC machined in Titanium Grade 5 (all the parts including the screw) with special carbonium-steel spring for lifetime reliability.


 The exclusive RodRunner 15mm Titanium Grade 5 rods  are available to complete the MicroMega baseplate system.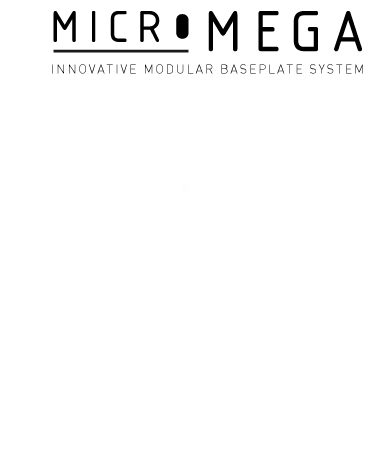 # MM-KIT-25
$ 439,00

+ shipment / duties
€ 399,00

+ vat

# MM-KIT-35
$ 439,00

+ shipment / duties
€ 399,00

+ vat

# MM-KIT-45
$ 439,00

+ shipment / duties
€ 399,00

+ vat

# MM-KIT-55
$ 439,00

+ shipment / duties
€ 399,00

+ vat

# MMPR-KIT-25
$ 539,00

+ shipment / duties
€ 499,00

+ vat

# MMPR-KIT-35
$ 539,00

+ shipment / duties
€ 499,00

+ vat

# MMPR-KIT-45
$ 539,00

+ shipment / duties
€ 499,00

+ vat

# MMPR-KIT-55
$ 539,00

+ shipment / duties
€ 499,00

+ vat

# MM-MMP
$ 89,00

+ shipment / duties
€ 79,00

+ vat

# MM-MB
$ 119,00

+ shipment / duties
€ 109,00

+ vat

# MM-TS
$ 159,00

+ shipment / duties
€ 139,00

+ vat

# MMTP
$ 119,00

+ shipment / duties
€ 109,00

+ vat

# MM-MS
$ 199,00

+ shipment / duties
€ 179,00

+ vat

# MM-RM15
$ 159,00

+ shipment / duties
€ 139,00

+ vat

# MM-RR25
$ 69,00

+ shipment / duties
€ 59,00

+ vat

# MM-RR35
$ 69,00

+ shipment / duties
€ 59,00

+ vat

# MM-RR45
$ 69,00

+ shipment / duties
€ 59,00

+ vat

# MM-RR55
$ 69,00

+ shipment / duties
€ 59,00

+ vat