back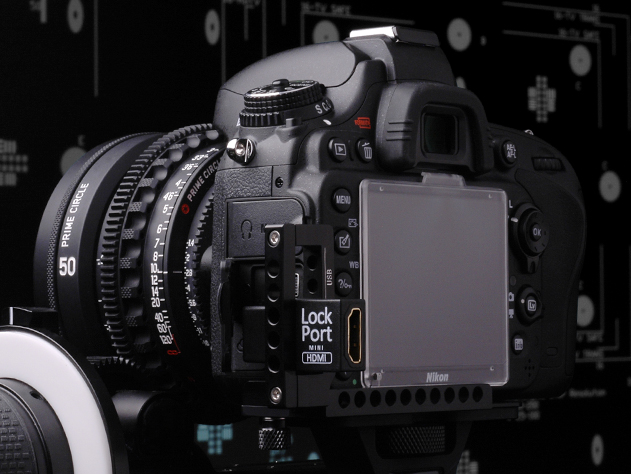 - Works with Nikon D600/610 cameras - Saves the "expensive to repair" mini HDMI and mini USB 2.0
ports on your D600/610 cameras - Full-Size HDMI/USB 2.0 outputs, allows you to use stronge standard cables
- Standard size HDMI/USB 2.0 plugs locks securely in the full-size HDMI/USB 2.0 sockets
- No loose of video/data signals anymore! The full-size outputs has tighter locking capabilites
- Gold plated contacts - Rock solid ultra-thin baseplate, can work on every plate, head, sliding plate, rig, support out there - Better cable layout on your rig set-up - No longer camera screws, use all the original camera screws
- Camera battery change available with LockPort mounted

The LockPort 600 DUAL HDMI/USB is a new product developed to help avoid
damaging your Nikon D600/D610 mini HDMI / micro USB 2.0 camera ports.
The LockPort 600 DUAL HDMI / USB camera baseplate is designed to fit easily
every head, baseplate, sliding plate, support out there
using the original camera screws already there. Ready in 10 seconds!
The LockPort 600 DUAL HDMI / USB safely secures a 90° REAR mini HDMI to
full-size HDMI adapter or 90° REAR micro USB 2.0 to full-size USB 2.0 protecting
forever the "expensive to repair" ports on your expensive HDSLR camera.
The Adapters has gold plated contacts and the full-size female output allows you
to use stronger standard HDMI cables, you can purchase everywhere!
Standard size HDMI/USB plugs locks securely in the socket – no signal loose,
and if somebody walks over your cable, the plug still can pop-out saving
your camera from falling on the ground.
HDMI and USB adapters cannot be mounted simultaneously.

# LP600DH
$ 99,00

+ shipment / duties
€89,00

+ vat

# LP600DK


# LP600DU


# LPDSK


# LP600DZH
$ 109,00

+ shipment / duties
€99,00

+ vat

# LP600DZK


# LP600DZU


# LPDZSK


# LST
$ 23,00

+ shipment / duties
€19,00

+ vat