back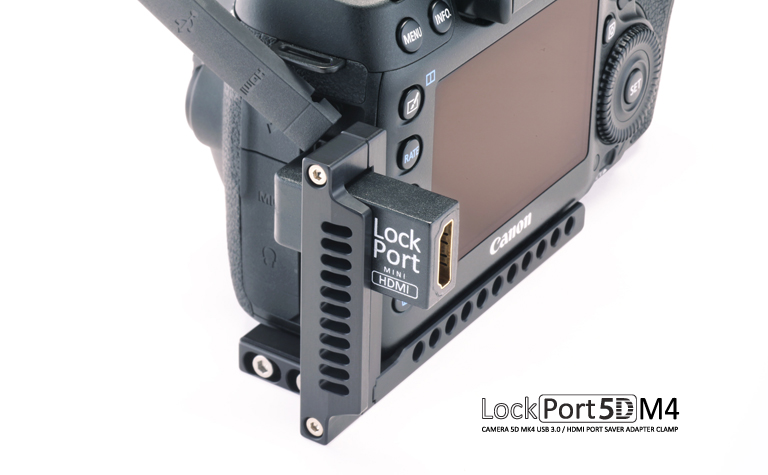 The LockPort 5DM4 DUAL HDMI/USB 3.0 and the MultiPort 5M4 are new accessories developed to help avoid damaging
your Canon 5D Mark IV mini HDMI / micro USB 3.0 camera ports.
The LockPort 5DM4 and MultiPort 5M4 camera plates are designed to fit easily every head, baseplate, sliding plate,
support out there using the original camera screws already there. Ready in 10 seconds!
The LockPort 5M3 DUAL HDMI / USB 3.0 safely secures a 90° REAR mini HDMI to full-size HDMI adapter
or 90° REAR micro USB 3.0 to full-size USB 3.0 seriously protecting the "expensive to repair" ports
on your expensive DSLR camera.
The MultiPort 5DM4 is a new custom designed connector locker with registrable grub screws and locking titanium knobs.
A simply engineering  concept bur seriously protecting the camera ports from damage and offering "no signal" loose during shootings.
The LockPort Adapters are 4K tested and has gold plated contacts and the full-size female output allows you to use stronger standard HDMI cables, you can purchase everywhere!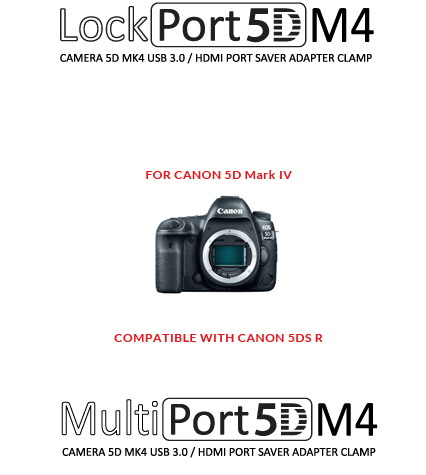 # LP5M4DK
$ 169,00

+ shipment / duties
€ 149,00

+ vat

# LP5M4DH
$ 139,00

+ shipment / duties
€ 129,00

+ vat

# LP5M4DU
$ 139,00

+ shipment / duties
€ 129,00

+ vat

# LPNDSK
$ 39,00

+ shipment / duties
€ 36,00

+ vat

# LPNDHSK
$ 29,00

+ shipment / duties
€ 26,00

+ vat

# LPNDUSK
$ 29,00

+ shipment / duties
€ 26,00

+ vat

# MP5M4-KIT
$ 129,00

+ shipment / duties
€ 119,00

+ vat

# MP5M4
$ 69,00

+ shipment / duties
€ 59,00

+ vat

# MPSK
$ 29,00

+ shipment / duties
€ 26,00

+ vat

# FHDPC12/30
$ 19,00

+ shipment / duties
€ 17,00

+ vat

# FHDPC15/40
$ 19,00

+ shipment / duties
€ 17,00

+ vat